About
The Grand Summit
The Grand Summit Hotel is a historic boutique hotel unlike any other in New Jersey.
Our storied history offers an understanding as to why discerning travelers appreciate this unique hotel which underwent a multi-million-dollar renovation in 2019.
Since 1868
History
The year was 1868, one of classic elegance, horse-drawn carriages, gas lamps, and top hats, and the early beginnings of The Grand Summit Hotel in Summit, New Jersey.
The Hill City was the embodiment of late 1860's gentility, made famous as a gracious resort area. New Yorkers flocked to Summit for its beautiful rural charm, pureness of atmosphere, and salubrious climate and pure water supply.
At the heart of this idyllic setting lay The Blackburn House, an elegant country resort. In season, a picturesque parade of horses and buggies would be seen carrying hotel patrons and their servants from the nearby Lackawanna Railroad Station, the Road of Anthracite, to The Blackburn House.
The Blackburn House offered amenities such as a bowling green, tennis courts, a casino, rambling wooden verandahs, and cuisine noted to be the best obtainable.
Many wealthy guests so enamored with the area eventually relocated here, building mansions and giving rise to Summit's legendary high society and a reputation as the Newport of New Jersey.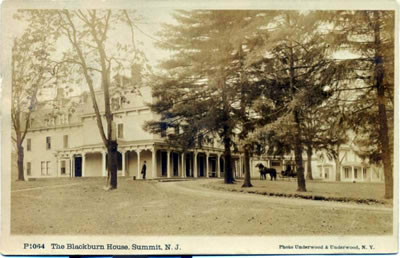 In 1929, as a result of the growing number of visits to Summit, the Summit Suburban Hotel as it was originally known was erected on the site of the original Blackburn House. Expert European craftsmen were commissioned to design the intricate exterior brickwork reminiscent of a classic Tudor mansion. The original interior lobby featuring vaulted beamed ceiling, gold leaf detailing, chestnut woodwork, and stone fireplace have been restored and maintained throughout the years.
The new Summit Suburban Hotel was opened just months before the 1929 stock market crash, and many of the wealthy residents who lost their homes and estates now called the hotel their home moving in with their family and staff.
The Summit Suburban Hotel continued as the home of celebrated lifestyle frequented by prominent politicians and celebrities who were drawn to the park-like setting, convenient proximity to cultural and recreational attractions, charming downtown Summit, and easy access to Manhattan.

Today The Grand Summit continues to exude its classic styling while offering innovative and progressive services and amenities. Family owned and operated The Grand Summit believes in collaboration with our friends and neighbors.
Our guests have included such notables as Doris Kearns Goodwin, Diane Sawyer, Martina Navratilova, Chris Evert, Rex Ryan, Phil Michelson, Keith Van Horn, Matthew Stafford, Jon Corzine, Chris Christie, Jim Cramer, Eli Manning, Giada De Laurentiis, Jose Garces and others.
We are a one of a kind boutique hotel offering an alternative guest experience.
HOtel in Summit, nj
We look forward to welcoming you!
Visit Us
570 Springfield Ave
Summit NJ 07901
Call Us
908.273.3000
Front Desk/Guest Services:  Extension 114 or 189
Sales/Group Travel:  Extension 165
Accounting:  Extension 169
Administration:  Extension 176