Favorites
What We're Known For
Fish Tacos
blackened mahi-mahi, soft flour tortilla, shredded cabbage, avocado, cilantro, and pico-de Galo, lime wedges, sriracha aioli
Angus Burger with Cheese*
traditional accompaniments
Traditional Turkey Club
house roasted turkey breast, Swiss cheese, hardwood bacon, lettuce, tomato, on multi grain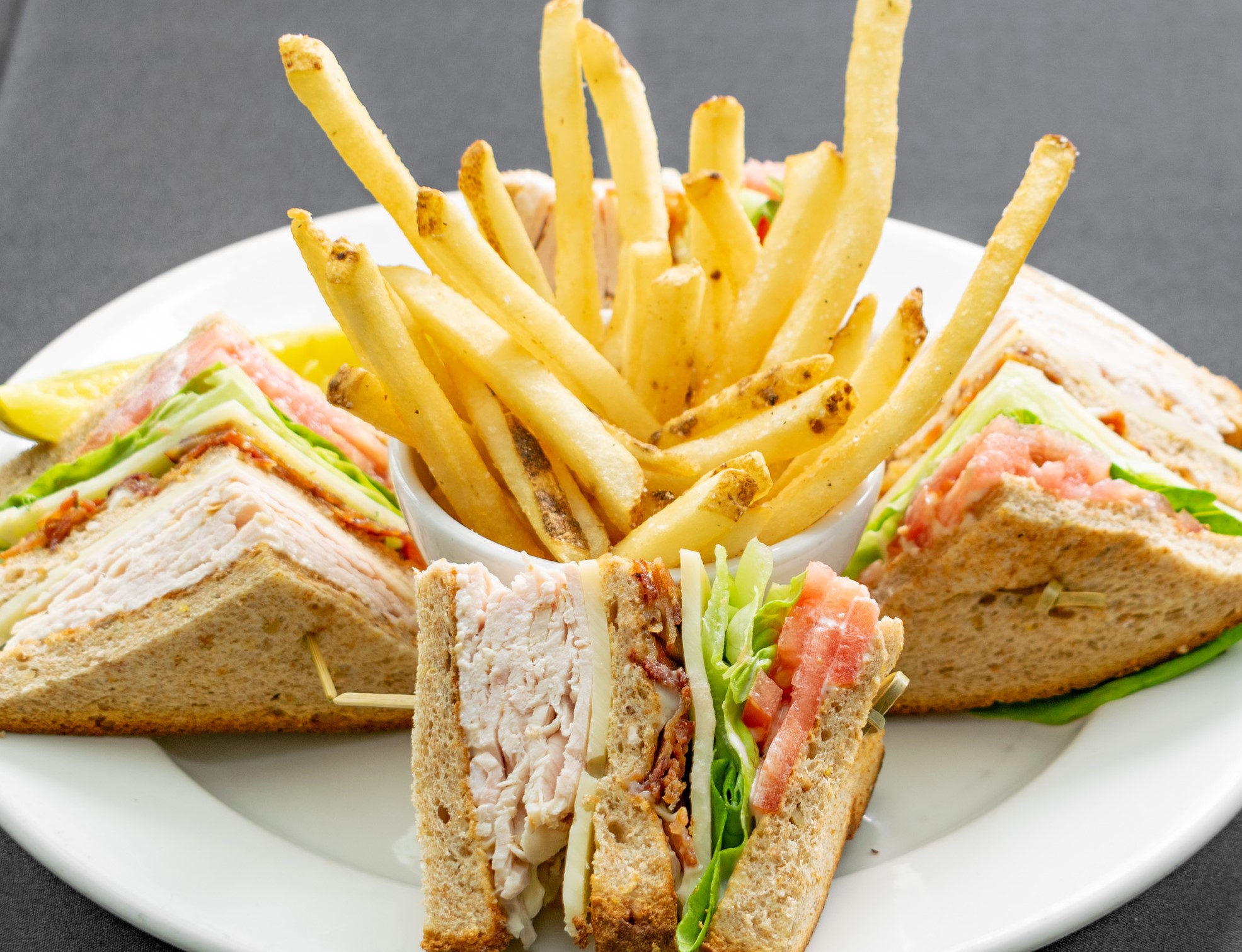 Served with French fries, sweet potato fries, house made kettle chips or a small side salad.
Angus burger with cheese* / 16
traditional accompaniments
Bacon Cheddar Burger* / 17
cheddar cheese, hardwood bacon, lettuce, tomato, onion, on a brioche bun
Angus Blue Mushroom burger* / 18
sautéed mushrooms, blue cheese, bibb lettuce tomato, sweet onion, on a brioche bun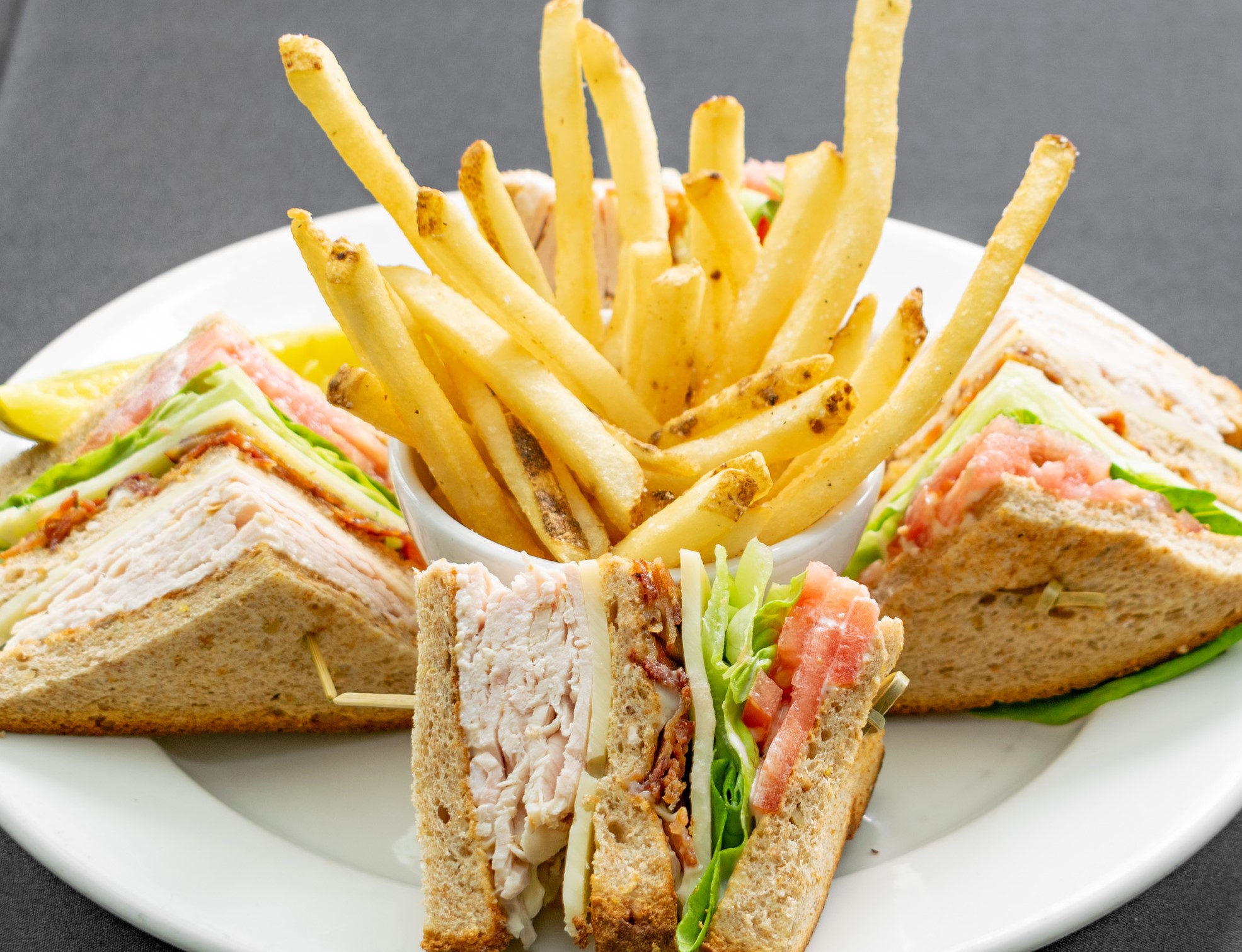 Traditional Turkey Club / 16
house roasted turkey breast, Swiss cheese, hardwood bacon, lettuce, tomato, on multi grain
Mary' Organic pesto chicken sandwich / 16
fire roasted tomato, provolone, garlic aioli, baguette roll
Beyond burger / 15
vegan patty, lettuce, tomato, onions, on a brioche bun
Add a house or Caesar salad for 4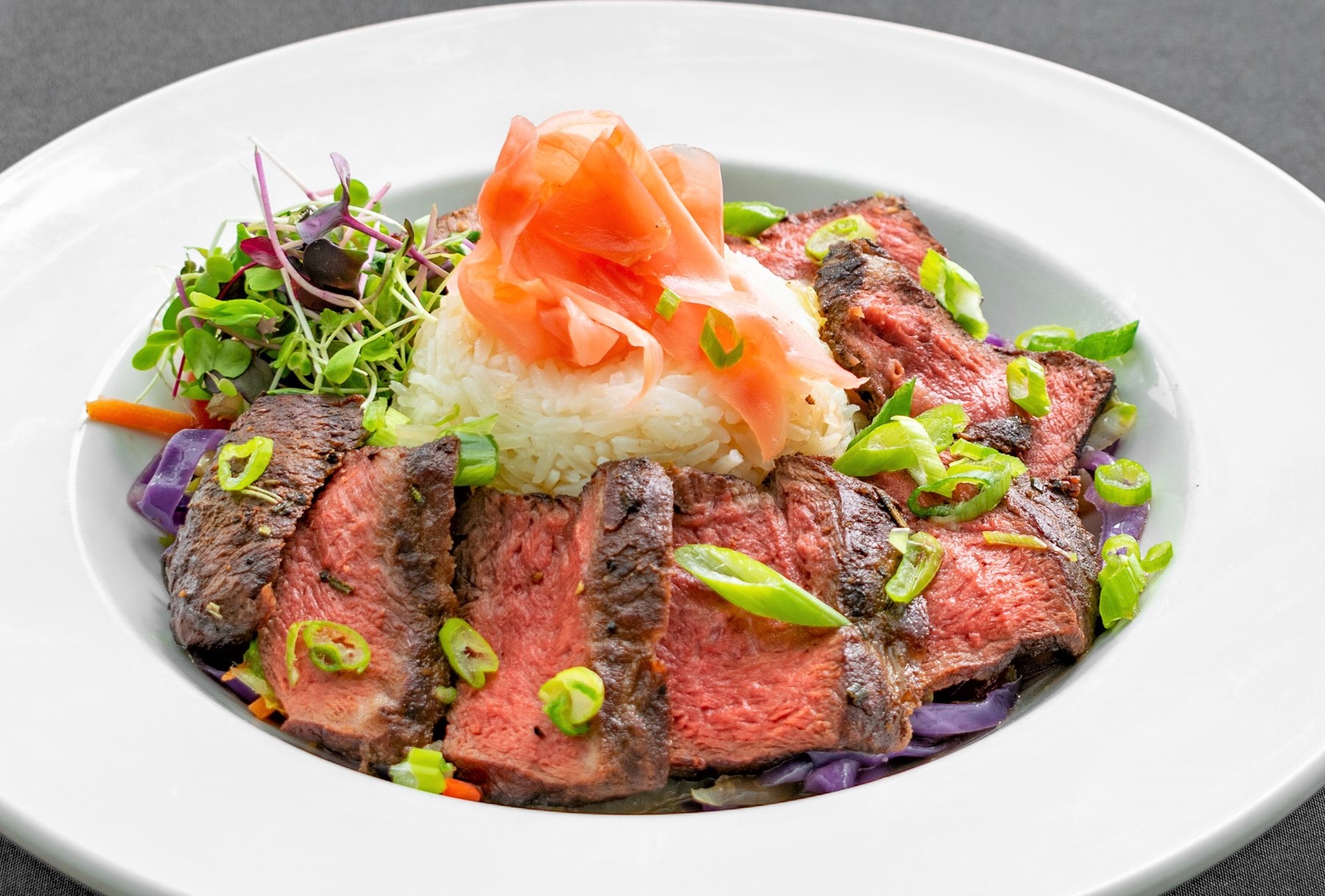 Asian Rice Bowl | 14
Jasmine rice, stir fried vegetables, Miso glaze

Select protein
Sautéed tofu  / 19
Mary's organic grilled chicken breast / 19
Seared salmon* / 27
Marinated flat iron steak* / 27
Mediterranean style salmon* / 32
pan seared, topped with fire roasted cherry tomato, pesto, chopped onion, asparagus, jasmine rice
Mary's Organic herb roasted chicken / 28
frenched breast, espresso demi-glace, braised san Marzano tomatoes, Yukon gold mashed, grilled asparagus
Chef's Daily Feature
our chef purchases small quantities of the freshest available ingredients based on seasonality
Monster Cookie / 8
house made chocolate chip cookie, vanilla ice cream, chocolate sauce
Molten lava cake / 8
vanilla bean ice cream
Cheesecake / 8
raspberry drizzle
Mediterranean Hummus / 11
roasted red pepper, olive oil, grilled pita, olives
House made Lump Crab Cake / 16
pan seared, panko crumbs, spicy remoulade, and Cocktail sauce
Boom Boom Shrimp / 15
panko crusted shrimp tossed in Thai chili sauce, Napa slaw
Chicken Quesadilla / 15
marinated chipotle chicken, Colby jack cheese, fire roasted salsa, sour cream
Flat Bread / 14
roasted zucchini, yellow squash, peppers, onions, goat cheese crumble, arugula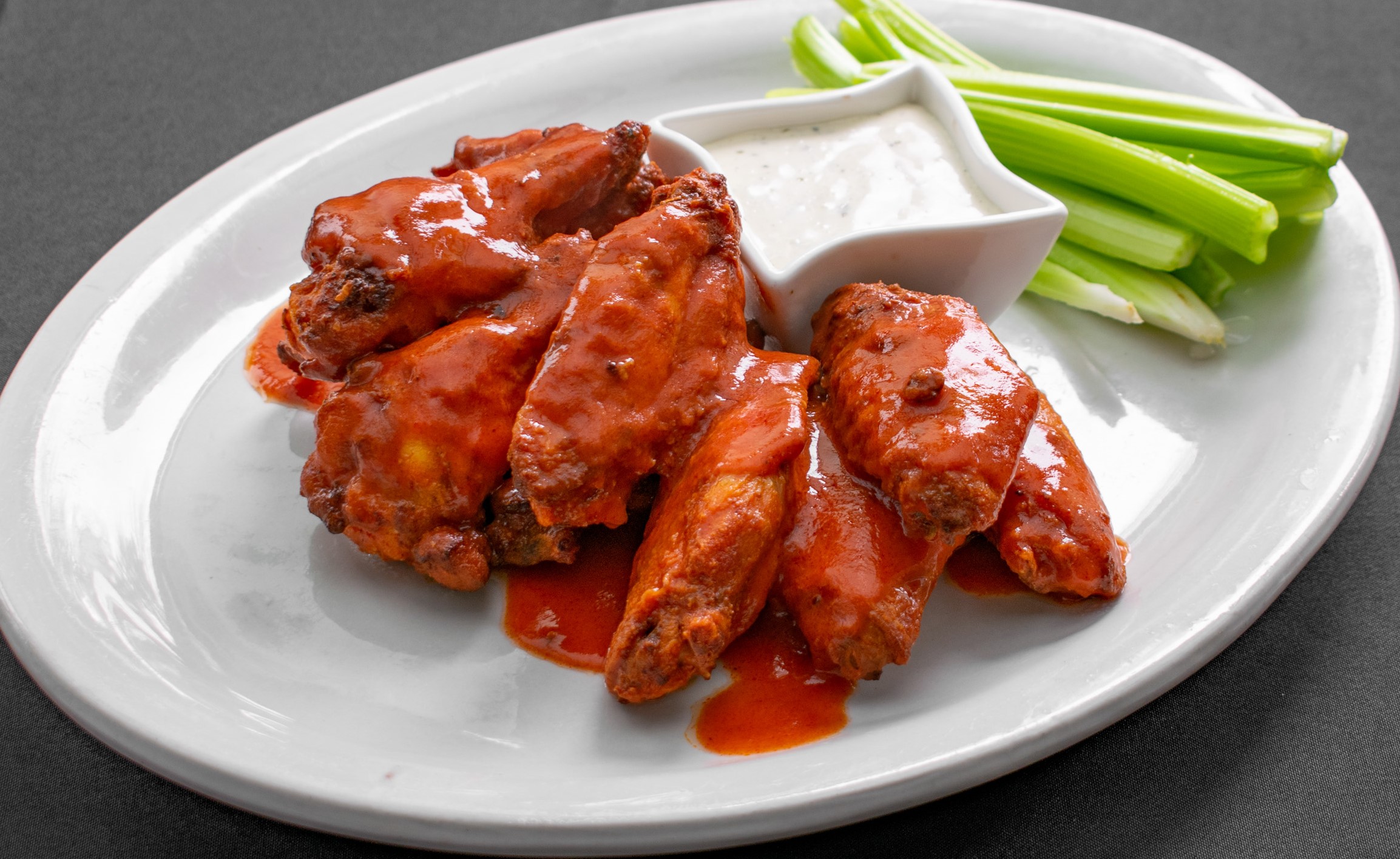 Wings / 12
8, bone-in or boneless – Rosemary and lemon, mild, medium or hot, Cajun, pepper lemon, celery, blue cheese or ranch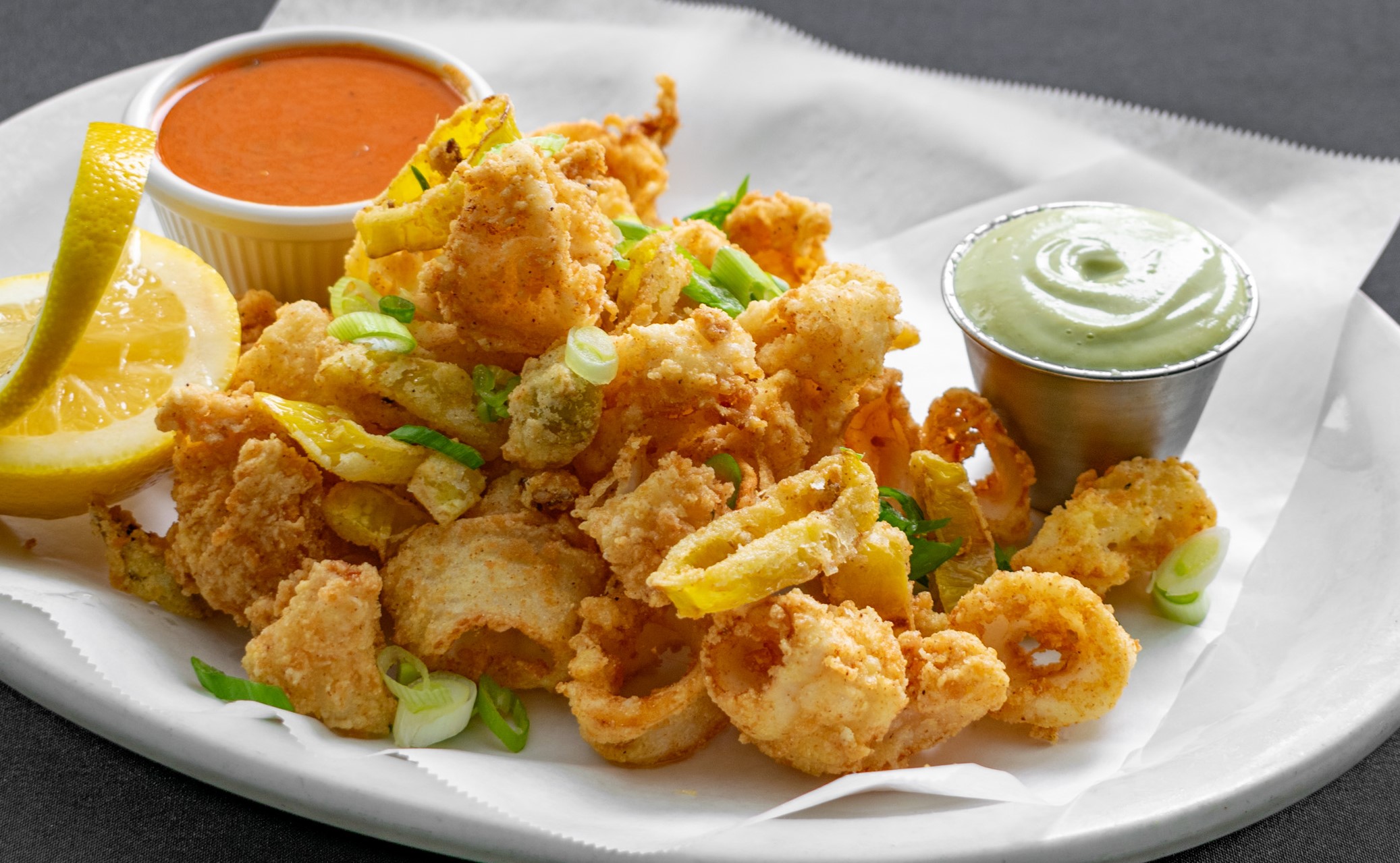 Salt & pepper fried calamari / 15
banana peppers, spicy marinara, wasabi aioli
Fish tacos / 15
blackened mahi-mahi, soft flour tortilla, shredded cabbage, avocado, cilantro, and pico-de Galo, lime wedges, sriracha aioli
Chef's Daily Soup | 7
Three Cheese Onion Gratinee | 8
Swiss, provolone, parmesan
Add to any salad: roasted chicken 4/ seared salmon* 6/ grilled flat iron steak*| 8
Caesar salad / 13
romaine lettuce, cherry tomatoes, parmigiano-reggiano cheese, classic dressing, GF
Greek salad / 13
crisp greens, tomatoes, red onion, banana peppers, olives, crumbled feta, balsamic dressing
Cobb salad / 16
romaine lettuce, spring mix, avocado, sliced roam tomato, chopped bacon, blue cheese crumbles, hard boiled eggs, grilled chicken, choice of ranch dressing or blue cheese dressing
Drink Included. Children 12 & Under.
Grilled Cheese & FF / 7
Cheeseburger & FF / 7
(add bacon +1)
Chicken Fingers & FF / 7

Hot Dog & FF / 7
Cheese Pizza / 7
Spaghetti / 7
With Marinara or Butter Sauce
Tomato Basil / 8
Caprese Salad / 11

Marinated buffalo mozzarella, sliced tomato, crispy greens and pesto .
Chicken Florentine / 22

Lightly breaded chicken breast pan fried served with yukon gold mash potato, and topped with parmesan cheese and a Cream spinach sauce

 shrimp Provencale /20
Sauteed jumbo shrimp, fresh garlic,  parsley, tomato sauce served with asparagus and Jasmine rice
If you have any concerns regarding food allergies, please alert your server prior to ordering.
*these menu items can be cooked to order.
Consuming raw or undercooking meats, poultry, seafood, shellfish, or eggs may increase your risk of foodborne illness, especially if you have certain medical conditions, gluten-free items upon request.
Sparkling
Zardetto Private Cuvee, Veneto, Italy, NV
 Bottle 38
Moët & Chandon, Impérial Brut, Champagne, France, NV
Bottle 83
Piper-Heidsieck, Rosé Sauvage Brut, Champagne, France, NV
Bottle 99
White
Rosé, Jean Luc-Cloumbo, Provence, 2020
Glass 12 / Bottle 46
Grüner Veltliner, Pratsch, Austria, 2019
Glass 8
Pinot Grigio, Pasqua, Sicily, Italy, 2020
Glass 10 / Bottle 38
Sauvignon Blanc, Wither Hills, Marlborough, NZ, 2020
Glass 13 / Bottle 46
Sauvignon Blanc, Fault line, marlborough, nz, 2019
Glass 10 / Bottle 38
Riesling, A to Z, OR, 2018
Glass 11 / Bottle 42
Chardonnay,round Hill,california, 2018
Glass 10 / Bottle 38
Chardonnay, Pedroncelli, sonoma county, CA, 2018
Glass 13 / Bottle 46
Red
Pinot Noir, James Bryant Hill, Central Coast, CA, 2017
Glass 11 / Bottle 42
Cabernet Sauvignon, Oxford Landing, Southern Australia, 2018
Glass 10 / Bottle 38
Cabernet Sauvignon, Vinium Cellars, 'The Insider', Paso Robles, CA, 2016
Glass 14 / Bottle 54
Shiraz, Torbreck "Woodcutter's", Barossa Valley, Australia, 2017
Bottle 50
malbec, Finca 'El origen, argentina, 2019
Glass 12 / Bottle 46
Red Blend, Conundrum, CA, 2017
   Glass 14 / Bottle 54
Caramel apple Martini / 13
Tito's Vodka, Butterscotch Schnapps, Apple Cider, Caramel Syrup
Spiced Pear moscow mule / 13
Tito's Vodka, Pear Liqueur,Lime Juice, Ginger Beer, Cinnamon Simple
Strawberry smash / 12
Libuela Tequila , St. Germaine, Lemon Juice, Strawberry 
Godiva chocolate martini / 13
Vanilla Infused Tito's Vodka, Godiva Chocolate  Liqueur, Creme De Cacao,  Ginger Mist/ 11
Irish Mist Honey Whiskey, Ginger Ale
The kentucky Buck / 12
Four Roses Bourbon, Lime Juice, Angostura Bitters, Ginger Beer , Strawberry
Sparkling | Red | White | Rosé
10 per glass / 30 per pitcher
Guinness / 7
Kane Over Head IIPA / 8
Blue Moon Belgian Style White / 6
Hoboken city side /8
Kane overhead / 9
Bell's lager of the lake / 7
allagash white / 7
Oskar blue little yella pilsner / 7
Founders   All Day IPA / 7
Kane Head High / 7
Bud, Bud Light, Coors Light, Corona, Corona Light, Heineken, Heineken Light, Heineken 0.0, Michelob Ultra, Miller Light, Troegs Seasonal, Sam Adams, White Claw, Wölffer Estate Dry White Cider, Stella Artois, Yuengling
HOtel in Summit, nj
We look forward to welcoming you!
Visit Us
570 Springfield Ave
Summit NJ 07901
Call Us
908.273.3000
Front Desk/Guest Services:  Extension 114 or 189
Sales/Group Travel:  Extension 165
Accounting:  Extension 169
Administration:  Extension 176